Home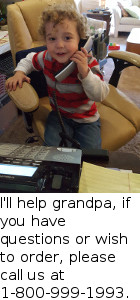 Advance Store Products is your source for safety pins, t-pins, straight pins, rulers and hand-sewing needles
We love hearing from our customers. If you would like to place an order with us or if you have questions, call today!
Click on an item below to view options or to place an order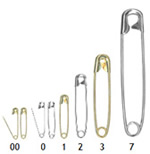 Advance Store Products is the place to know when you are looking for safety pins, tagging guns, t-pins, straight pins and notions. Our site has been developed to provide an opportunity for individuals to purchase both case lots and less than case quantity of our notions, tagging guns and tag attachers at wholesale prices. We also serve companies and stores who wish to purchase safety pins in large quantities and we are happy to be able to meet those orders.
Our clients from around the world are store owners, charities and crafters who appreciate high-quality great customer service. Whether you are a one-time buyer or a repeat customer, Advance Store Products gives you the ability to purchase the quantity of safety pins and notions that you need at a fair price.
Advance Store Products is your source for safety pins for the big race. Whether it's a bike race, a marathon or a walk for charity, virtually ever race involves pinning numbers onto a shirt or jersey. At Advance Store Products, we have the size and style safety pin that will be perfect for that race you are planning. Because we can sell our safety pins in case quantity at wholesale prices, the cost of the safety pins won't eat into your organization's budget. Call us today and see how we can help with your safety pin needs.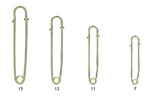 Wrestling has become a popular sport at high schools and colleges all over the United States and around the world. Advance Store Products has found that large safety pins are now being used widely throughout the sport as medals of sort in recognition of a wrestler pinning his opponent. We have all of the styles and sizes of safety pins your school or wrestling organization may need to honor and recognize these promising athletes.
We also specialize in providing safety pins for upscale retail stores, shops and boutiques all over the world. The experienced professionals at Advance Store Products know which safety pins work well with high-end merchandise and we can also find the style, size and color that is perfect for your merchandise.
Trust the professionals at Advance Store Products for all of your safety pin needs. We want to be your source for large or small orders of brass safety pins or steel safety pins as well as t-pins, straight pins and hand sewing needles. Our staff would be happy to answer any questions you have.